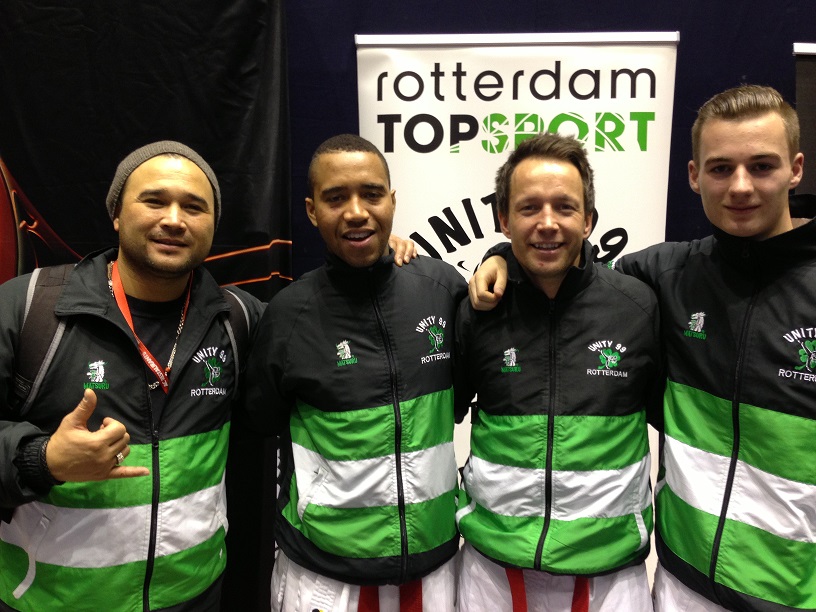 TEAM UNITY99 (From the left): Coach Virgil Fizzer, O'Neill, Me and Rick
Last weekend I participated in the Battle of the Teams tournament in Holland.
I received an invitation from the Dutch karate club Unity 99 in Rotterdam and fought on their senior team. The championship had over 70 teams from 12 countries among Germany, France, Greece, Belgium, Denmark, Holland, England and Luxembourg.
BATTLE OF THE TEAMS WAS EXTRA SPECIAL
Team tournaments are 3 fighters on one team and it is open weight category which means I must be able to fight against heavier athletes. The Battle of the Teams tournament was extra special because the number of points determined who wins, not the number of won matches. That means if a team wins the first 2 fights 3-0 in points, (6 points in total), but loses the last fight 0-8 the team with 8 points wins. This made this tournament extra exiting to the last second!
FIGHT AGAINST BELGIUM
We meet Belgium in the tournament and O'Neill was our first fighter. He fought a fighter from the national team who had a lot of experienced. But O'Neill worked hard the whole fight and took the lead early. I was really impressed because O'Neil won the fight 6-4! I had the second fight and I meet Jeroen Quets also from Belgium. After a hard match Jeroen won 4-1. Belgium had a total score of 8 points before the last fight and we had total 7 points. Our last fighter was our youngest and he had to win with at least 2 points to win. Rick is a up and coming fighter and really fought like a champion. But unfortunately he lost the fight, but everybody in Unity99 was proud of him, me also!
The final was between Denmark and Holland. Holland had 3 really good fighters and I personally know 2 of them, Geoffrey Berens and Sheppard Moreno. They won tournament and 600 euro! I had a great experience and I am definitely coming back next year!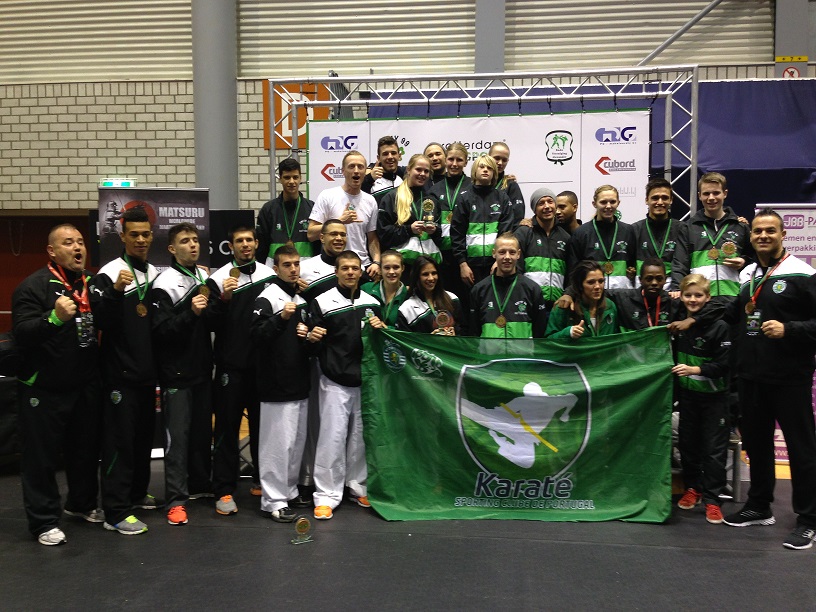 My special thanks to Patrick Van Daalen, Virgil Fizzer, everybody in Unity99 and the team from Portugal!
NEXT TOURNAMENT
My next tournament is Paris Open next year in January. I will train through December because 2014 is coming fast so relaxing is for everybody else. But remember it is not important what you do between Christmas and New Year, but what you do between New Year and Christmas.
For me 2013 started with a fracture in my wrist followed by an operation with screws and gasp.
But I still managed to compete a little and I was champion in Ishøy Cup, Gothenburg Open, and sliver in the Norwegian National Team competition. I hope for a stronger season in 2014 and wish you all a Marry Christmas and a Happy New Year!